Residential Window

Cleaning
Do you have a house cleaner? How about a nanny? Maybe a gardener? If you've got a nice home, kids and a yard, you might have all three! Why not have a window cleaner?
The glass, screens and sliding doors in your home deserve to be cleaned and maintained just like any other part of your home. And just like you hire professionals for other aspects of home-maintenance and family-care, it's wise to do the same for your windows, glass and solar panels. Here are 3 reasons why:
1. Cleaning glass effectively requires skill and technique. Windex and paper towels will often leave glass looking worse not better.
2. Cleaning exterior glass and solar panels often requires the use of specialty equipment, such as ladders, poles and special squeegees. Investing in those items yourself is generally not financially practical.
3. Cleaning all the glass, tracks and screens in your home is time-consuming; it can take the better part of an entire day. Don't you have better things to do with your time?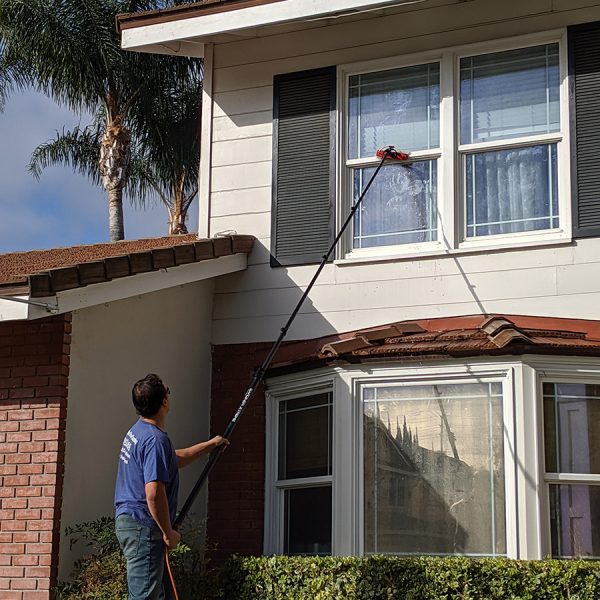 What is this going to cost?
On a budget? We get it! And we have the solution! The hardest glass to clean is generally the dirtiest glass for you to clean as well. We are talking about your exterior glass. That is why we offer a super affordable exterior glass only cleaning option. With this type of cleaning, we charge less than half of what a standard interior/exterior cleaning would be. That's because we have an extremely fast, state-of-the-art method for cleaning exterior glass. Click here to learn more about this awesome glass-cleaning technique.
Price-wise, let's say you have a home that would be $300 (an average cost for an Orange County Home) for full service window cleaning. Full service window cleaning includes tracks, screens and interior/exterior glass. If you opt for quarterly exterior cleaning only, the cost drops to only $100 per cleaning! That means the dirtiest and hardest part of the job gets done at ⅓ of the standard full price!
Not sure what type of cleaning you want?
No worries! When we come out for a free price quote we will go over all of your options and find a cleaning solution that fits your budget and your home maintenance needs.
Keep in mind most window cleaners want to charge as much as possible for each individual cleaning.
Here at EarthWise we would rather develop routes of loyal clients who use our service on a quarterly or semi-annual basis to maintain their home's glass, windows and solar panels. We want your home to look great year round, not just once a year.
That means we don't try and make a killing on your initial cleaning!
Call us at 714-482-7134 or

use the contact us page to request a free quote